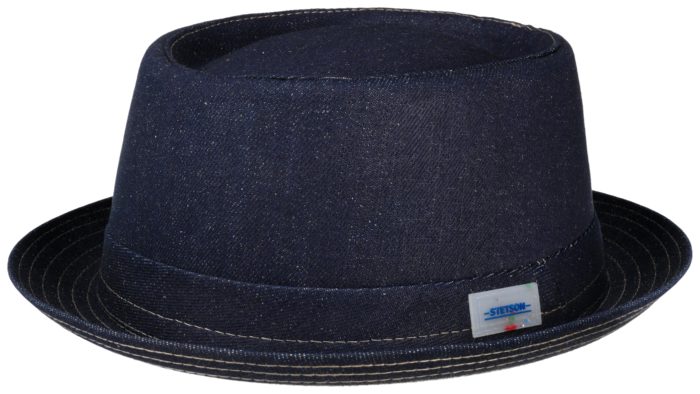 1691106
Pork Pie Sustainable Denim
In cooperation with ClimatePartner, the expressive Pork Pie with its authentically upturned brim sends a clear signal for environmental awareness and sustainability. The "Easy Fading Indigo" dyeing of the fabric made of cotton, organic cotton and ramie, the fibers of the Himalayan nettle consumes little water, and any sewing thread is made of recycled polyester.
Country of origin: Italy
FORM INFORMATION

Seen from above, this smart pork pie hat looks just like the American pastry of the same name. The concave indentation that runs around the entire crown and the narrow, upturned brim give this stylish, rounded hat its classically elegant charm.
MATERIAL INFORMATION

Conventional cotton is combined with high-quality organic cotton and oriental ramie derived from Himalayan nettle to create a sustainably processed fabric: The traditional and environmentally conscious manufacturing process saves 30% energy, 50% water and a whopping 70% chemicals compared to conventional methods. The delicate mottled design makes this fabric a refined and timeless classic.
Material Composition 1: 82% Cotton, 18% Ramie
Material Composition 2: 100% Cotton
Country of origin Material: Italy
CLIMATE PARTNER

For more info follow the ClimatePartner link of the product.