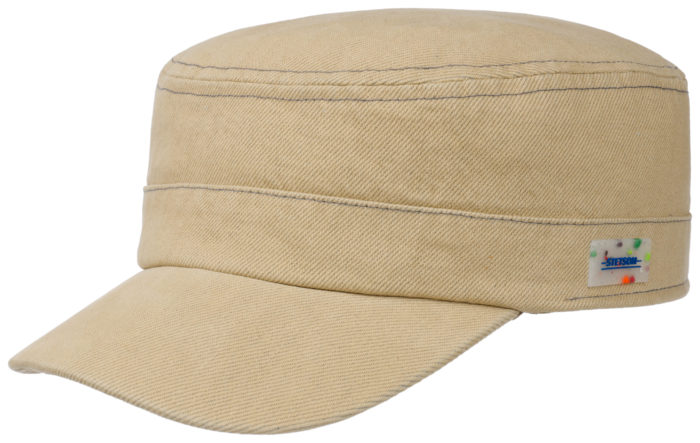 7491108
Army Cap Cotton Sustainable
With its typical expressive shape, the Army Cap from Stetson looks modern and casual. The look combines especially well with different sporty casual styles. Thanks to the use of regeneratively grown cotton and recycled fibers, as well as the offsetting of CO2 emissions during production, the design proves to be sustainable.
Country of origin: Bulgaria
FORM INFORMATION

The original shape assumes the typical look of a classic 'American-style' army cap. In contrast to a sporty baseball cap, this high-quality military cap has a straight-sided cylindrical crown with a flat top. The slightly curved visor shades the wearer's face from the sun.
MATERIAL INFORMATION

The comfortable soft feel is attributable to high-quality cotton from sustainable, regenerative cultivation and the recycling of cotton fibers from garments in an environmentally conscious manner. The different coloration on both sides gives the fabric a trendy look to meet the demands of fashion-conscious customers.
Material Composition 1: 100% Cotton
Material Composition 2: 100% Cotton
Country of origin Material: Italy
CLIMATE PARTNER

For more info follow the ClimatePartner link of the product.